Meghalaya is a popular state in the northeastern part of India. This hilly state is a part of the seven states in northeast India that are popularly known as the seven sisters. In Sanskrit, the term Meghalaya means the "abode of clouds." Therefore, it cannot be disputed that Meghalaya is a stunning place and one of the most popular hill stations in India.
If you have been considering to travel to Meghalaya in the upcoming holidays, here are the top 20 places you can visit to have a grand time with your friends and family!
Top 20 Best Places To Visit In Meghalaya:
1. Cherrapunji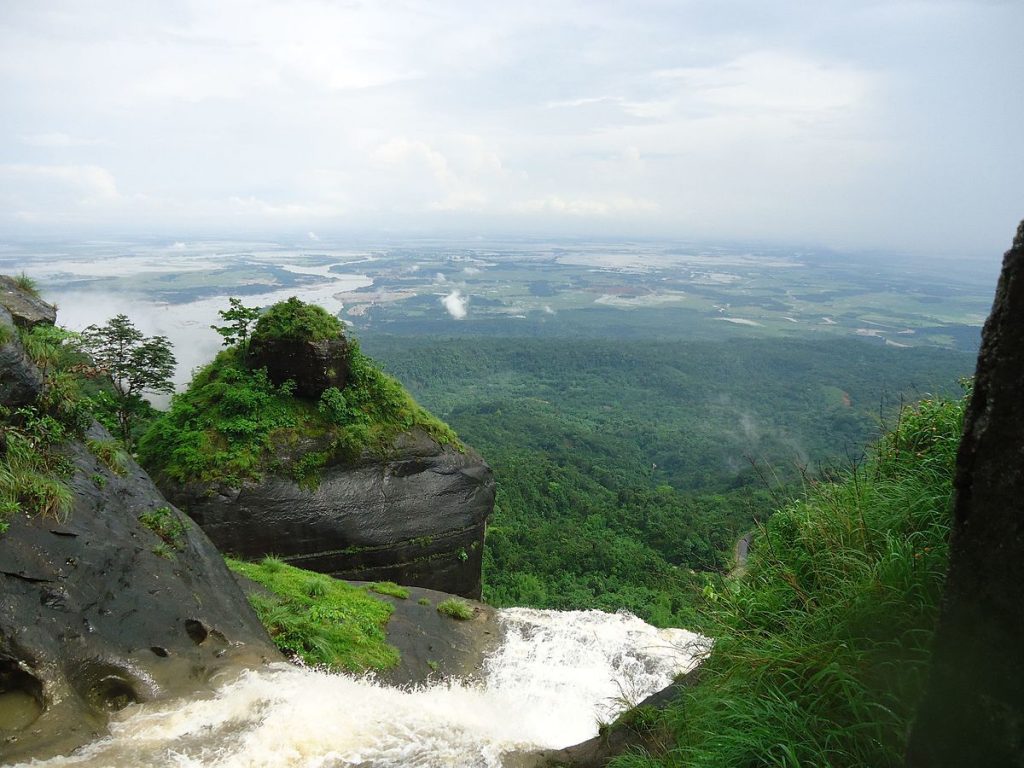 Cherrapunji is known as the wettest place on the planet, thanks to its constant and heavy rainfall. It is also known for its clean and pristine surroundings, completely untouched by humans. This is an excellent place to visit if you ever find yourself in Meghalaya. You can relax and unwind in the lap of nature and spend some quality time either with yourself or with your loved ones. It also allows you to become one with nature and appreciate the finer things in life. Therefore, Cherrapunji is a definite must-visit!
2. Shillong
Another must-visit place in the state of Meghalaya is the well-known city of Shillong. Shillong is another place that has been born with the blessing of nature. The capital of Meghalaya, Shillong offers all of its bequeathed elements for exploration to wanderlusts so that you can explore the place to your heart's content. This is a place where you can totally relax and have a great time, introspecting about yourself and the heavier things in life. After all, Shillong is called the "Scotland of the east" for an excellent reason!
3. Tura
You can also visit Tura which is situated in the West Garo hills. It offers a spellbinding and serene environment to the locals as well as tourists. This town is largely unexplored, which would give you a great reason to find the forgotten goodness of nature in this place. The primary attraction of Tura is the Nokrek National Park. It is located at a distance of 12 km from the town. In addition to that, you can find a number of animals here such as golden cats, leopards, and pheasants.
4. Mawsynram
Mawsynram is another place that is regarded as one of the wettest across the globe. This place is essentially a mesmerizing village and Cherrapunji beats the place as the wettest place in the country by a very slight margin. It enjoys great weather and is a paradise for rain lovers. It is also one of the top tourist places in Meghalaya. The place is situated in Meghalaya's East Khasi Hill district, 1400 m above sea level. Moreover, the rains here are quite powerful, which just adds to its entire beauty.
5. Nongpoh
A petite town situated in the northern part of the East Khasi hills, Nongpoh is another popular tourist attraction. It is considered as one of the most favorite stopovers when traveling to Shillong. It enjoys pleasant weather throughout the year which is why you can visit it any month without any worries. This place is also situated quite close to the beautiful Brahmaputra plains, so you can expect to see a lot of gorgeousness all around you. It offers plush, fresh green trees as well as serene climatic conditions.
6. Jowai
Jowai is situated in the district of Jaintia hills. It is well-known for its breathtaking views and scenic setting with the perfect amalgamation of culture and heritage. This place truly reflects the easygoing lifestyle of the people who live here. The main attraction of this place is gorgeous and stunning lakes. You can visit Lalong Park as well as Thadlaskein Lake to spend some time in the company of nature. You can also visit some other hotspots such as Syntu Ksiar which is a popular destination in Jowai.
7. Baghmara
You can also consider visiting Baghmara if you ever find yourself in Meghalaya. This place is super rich in flora as well as fauna. In addition to that, it is totally enveloped by hills, rivers, lakes, as well as all the significant elements of nature that make us fall in love with it. This place witnessed hoards of tourists year after year for precisely this reason. Furthermore, if you are a wildlife freak, you can also visit the Baghmara Reserve Forest which is only 4 km from the actual town.
8. Williamnagar
Williamnagar is a place that is as unique as its name. It was formed around Simsanggre, which is the former town based on the plains of Simsang River. This area is one of the remote ones and is well-known for the abundant natural beauty it offers to tourists. It is flanked by mountains and has a rich composition of vegetation and water. This is another breathtaking place that you can consider visiting in the state of Meghalaya. If nothing else, it will definitely make you relax as well as unwind.
9. Nohkalikai Waterfalls
Nohkalikai Waterfalls is the fourth highest in the world and is one place in the state of Meghalaya that you can absolutely not afford to miss. These falls plunge around 335 meters from an imposing cliff, demonstrating immense natural magnificence. These falls are also considered to be the pride of the state and for an obvious reason. Watching these falls plunge on the ground is the most spectacular feeling ever. Therefore, you must definitely visit the Nohkalikai Falls to witness their majestic beauty on a clear, pleasant blue afternoon sky.
10. Elephant Falls
Elephant Falls has been named after a stone that looks like an elephant, placed at the foot of the falls. These falls are again one of the most popular in northeast India. They are also located right next to Shillong. So, you can consider having a little stopover to appreciate this beauty. It is a paradise for tourists and you can access them from a number of vantage points. This is an excellent place to spend some quality time either alone or with your family in the midst of nature.
11. Mawlynnong
This place is a small village which is located approximately 90 km from the capital in the East Khasi Hills. In fact, it has been termed, "God's own garden." This village was deemed to be the cleanest village in entire Asia in the year 2003 and when you visit this place, you can see why. It is another popular tourist attraction in the state of Meghalaya. This place is an eco-tourism initiative that is based on the community. This means that the entire community works together to maintain its beauty.
12. Mawsmai Cave
It is a known fact that Meghalaya boasts of some of the most mysterious and amazing cave systems in the entire country. Mawsmai Cave is one of those places that you just have to visit. In fact, it is the most popular of them all. It is situated at a distance of 6 km from the Cherrapunji Mawsmai Cave. In addition to that, these caves are one of the most mesmerizing mazes in Meghalaya's East Khasi Hills. You can see a number of patterns and hues on the caves that are made, thanks to the play of light here.
13. Dawki
Dawki is essentially a small border town located in the Jaintia hills. Umngot is a famed river in this place and a definite must-visit in Meghalaya. This place is sandwiched between Bangladesh and India and is a major trade center between the two countries. It is a rather small city and in addition to being a popular trade hub, the place is also famous for its immense tourist scene. Many people are known to flock to this city to enjoy the sounds and sights and boat in the Umngot River.
14. Umiam Lake
This is another one of those lakes in Meghalaya that will absolutely blow you away. It is a man-made reservoir situated 15 km away from Shillong on its northern side. The lake was essentially formed after they built a dam to generate hydroelectric power. Umiam Lake is very scenic and is perfect for a sunny day out. In addition to that, this place offers some of the best panoramic sights in the country for nature lovers. There is also a park next to the lake that you can visit.
15. Balpakram National Park
And how can we not mention the Balpakram National Park! This is a very important place in the state of Meghalaya and is rich in flora and fauna. It is situated close to the Garo Hills, 3000 ft. above sea level. This national park is also quite popular and well-known across the country for its pristine natural beauty. The term 'Balpakram' essentially refers to the land of perpetual winds. Furthermore, the national park is quite blessed with breathtaking scenes and charming grace. Therefore, you can have a good time here.
16. Double Decker Living Root Bridge
The root bridge is perhaps one of the best and the most hidden treasures of Meghalaya. This place is nestled in the lush and green forests of Cherrapunji. This place is known for its Jingkieng Nongriat Double Decker Living Root Bridge or as most people call it, the double-decker root bridge. This bridge is resplendent in its beauty and is made entirely of the roots of the Indian Rubber Tree. Although there are many other similar bridges in the area, this is by far the largest of them.
17. Garo Hills
Garo Hills is situated in western Meghalaya and is popular for the Garo tribes. It is a known fact that the Garo tribes believe in folklore and nature in a truly enchanting way. They live in lush, verdant hills that are truly a treat for sore eyes. In addition to that, these hills are popular for some of the best waterfalls in the entire state. Spending some time in this place is akin to spending time in the lap of nature. Moreover, you will get to meet fascinating locals.
 18.Jaintia Hills
Jaintia Hills form the eastern, northern and southern parts of the state of Meghalaya. This place is a pristine and sacred patch of forests and hillocks whose freshness and beauty are truly unparalleled. Jaintia Hills is basically a part of the former Jaintia Kingdom and is dotted with popular unscarred forests, monoliths of stones as well as some gorgeous lakes such as the Umhang Lake. If you ever visit Meghalaya, you must definitely consider visiting Jaintia Hills. This place will definitely surprise you with its pristine beauty and undeniable serenity.
19. Nohsngithiang Falls
This is another breathtaking falls in Meghalaya that make the state paradisiacal. The Nohsngithiang Falls is situated at a distance of around 4 km from Cherrapunji. These are also the tallest waterfalls you will find in the country. These falls plunge from a staggering height of 1033 feet on the ground. In addition to that, they are divided into seven sections, which is why they are also known as the Seven Sister Waterfalls. The waterfall is absolutely scintillating and seasonal. It plunges over hills that are covered with limestone during the rainy season.
20. Kyllang Rock
Last but definitely not least is Kyllang Rock, which is another popular tourist attraction in Meghalaya. This place is situated at a distance of 78 km from Shillong and is essentially a massive rock that is formed out of red granite. This giant dome in Meghalaya's West Khasi Hills. There is a lot of folklore associated with this place but besides all that, the place itself is simply stunning. You can gawk at the marvelous landscape that surrounds the area and have the time of your life.
Final Words
The state of Meghalaya is full of flora and fauna as well as undeniable natural beauty. It has been blessed with nature's best and it offers a  deep respite from the busy life of metropolitan cities. In addition to that, the place has something to offer to everyone and only when you visit it can you understand the true beauty of Meghalaya.