The construction of Tomb of Salim Chisti is started in AD 1571. It is located in the Jami Masjid's courtyard, Fatehpur Sikri, Agra. It is one of the major Shrines in India. This shrine was built by the Akbar for the Sufi Saint. The saint told Akbar in advance about the birth of his son. Akbar gives respect to the Sufi Saint constructed this mausoleum. It is made up of the high quality of marble and located at the place where he did meditation in his life.
There are four thin pillars located at the entrance of the tomb. The pillars are beautifully designed in Gujarati style steps that go to the roof from the bottom. The entry of the gate is decorated with four caliphs of Islam, God's name, and the forecaster. The Archaeological Survey of India well preserves this structure from over more than 400 years ago. The tourists from all over the world visit this place to get the blessing of the saint. The visitors tie threads, pray and present flowers to the saint.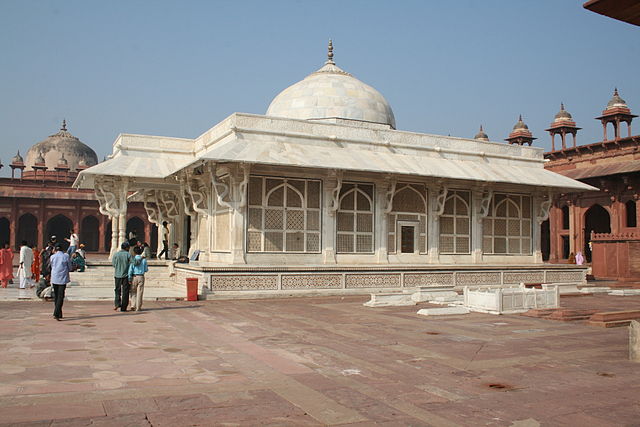 It is one of the most expensive structures of marbles. It is extravagant, big and determined structure. It has airy nature which makes it polished and chiseled. The tomb has the square shape which has 24' sides. A low dome covers the whole mortuary chamber which has 16' sides. There is a large Verandah located on the outside of the tomb. This makes it 48 x 48' in measurement. The tomb has many pillars which support the roof. On the southern side, there is a porch which is supported by pillars. The tomb looks beautiful from inside with its floor of white marble which is decorated with multi-color stones. It was built by using finest Mughals architecture. The tourists must visit this place to enjoy the beauty of this place.