Andhra Pradesh is an Indian state that borders the country's southeastern coast. It is a melting pot of different cultures and traditions. This state is one of the most dynamic in the country and has something to offer to everyone. Tens of thousands of people, both Indians, and foreigners, visit the state for holidays year after year.
If you have been planning to visit Andhra Pradesh for your upcoming holidays, here are the top 20 places that you can absolutely not miss!
1. Srisailam
Srisailam definitely tops the list of the top 20 places to visit in Andhra Pradesh and for an excellent reason. This place attracts a lot of tourists to the state every year. Situated at a distance of 229 km from Hyderabad and 263 km from Vijayawada, Srisailam is a holy place and one of the twelve total Jyotirlingas of Lord Shiva located at the River Krishna banks in the district of Kurnool in Andhra Pradesh. Therefore, it is one of the most popular religious getaways on weekends for many people.
2. Borra Caves
Another great place that you can consider visiting in Andhra Pradesh is Borra Caves. They are located on India's east coast in the hill range of Ananthagiri of the Araku Valley. The caves are spread across a total area of approximately 2 sq. km. In addition to that, the caves are located approximately 1400 m above sea level. William King George discovered these caves in the year 1807. Borra Caves is regarded as one of the biggest caves in the entire country and is a magical place for locals as well as tourists alike.
3. Kanaka Durga Temple
This is another quite famous temple in Andhra Pradesh. It is situated on the banks of River Krishna on the Indrakiladri hill. This famous Hindu temple has been dedicated to the Kanaka Durga goddess. If legends are to be believed, Arjuna constructed this particular temple for Goddess Durga. Many popular celebrations are carried out at this temple such as Theppotsavam and Saraswati puja. Tourists who are visiting Vijayawada or who have it on their itinerary can definitely consider visiting the majestic Kanaka Durga temple.
4. Submarine Museum
Submarine Museum is known as one of the most insightful and unique museums in the entire country. It is a definite must-visit attraction in the state of Andhra Pradesh. Also called Smritika, this museum is located next to the beautiful Ramakrishna beach which is a gorgeous location. The museum was previously an INS Kursura, which is a submarine built in Russia. That said, in the year 2001, the entire place was transformed into the Submarine Museum as we know it today. This museum attracts a number of tourists every year.
5. Kailasagiri Hill Park
Kailasagiri Hill Park is regarded as one of the most pleasant parts of the state. It is an amazing place in Visakhapatnam and is considered to be a stunning hill station. This place is frequented by countless people across the country and offers a panoramic view of the sea. In addition to that, Ramakrishna Beach and Rushikonda Beach surround the entire place on the right hillock and left respectively. This spot has also emerged as an amazing picnic hangout for friends and families. A definite must-visit when in Andhra Pradesh!
6. Sri Venkateswara Temple
Sri Venkateswara is one of the most famous temples in not just Andhra Pradesh but the entire country. It a rather ancient as well as holy temple situated at Venkata Tirumala Hill's 7th peak. The temple is basically located on the south side of the Sri Swami Pushkarini River. The entire structure of the temple has been built in the classic Dravidian architectural style. Moreover, the temple covers a total area of approximately 2.2 acres and houses Lord Venkateswara's idol. The idols are also covered with precious as well as semi-precious stones.
7. Sri Padmavathi Ammavari Temple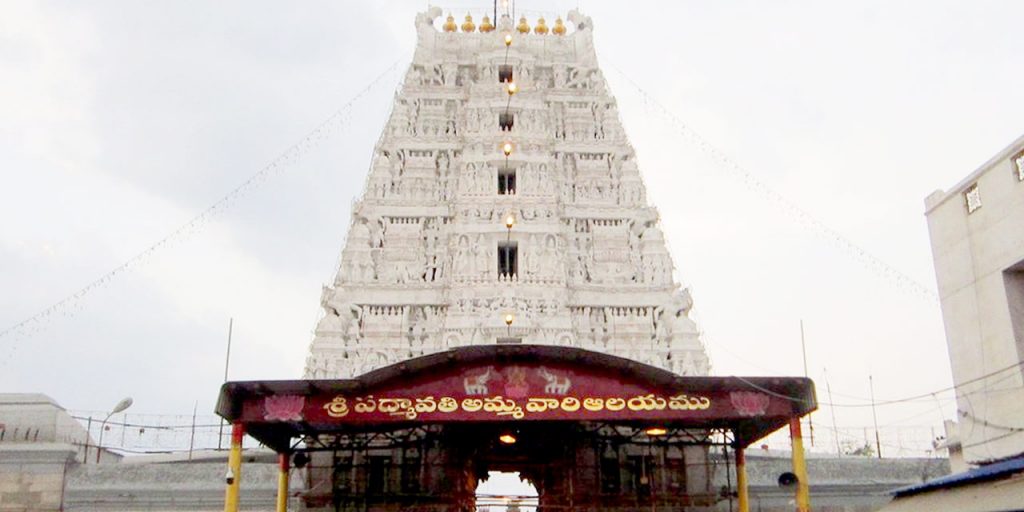 How can we talk about the famous temples in Andhra Pradesh and not mention the ultra-popular temple Sri Padmavathi Ammavari Temple? This is a well-known Hindu pilgrimage temple situated in Tiruchanoor. This place is basically 5 km away from Tirumala Hills. Goddess Padmavathi is regarded as the primary deity of this holy temple. It is believed that she married Lord Venkateswara. Another popular belief is that devotees must first visit the Padmavathi Temple before visiting the Venkateswara temple in order to offer their prayers. You can find peace aplenty here.
 8. Iskcon Temple
Iskcon temple is a well-known name in not just the country but the entire world. This temple has countless roots in several countries worldwide as the devotees of Lord Krishna continue visiting this temple irrespective of where they are. This temple is situated in a lovely location and is a must-visit place for everyone. This temple is also popularly called the Gowthami Ghat and besides being a place for worship, it is also a great recreational center. Moreover, tourists flock from around the state to visit this temple every day.
9. Ramakrishna Beach
Beaches are the absolute highlights of your trip whenever you travel, irrespective of whether it is with friends or family. Ramakrishna Beach is no exception. This beach is one of the most famous in Andhra Pradesh and is an amazing place to visit with your friends and family. This holds especially true on a balmy day. The beach is situated on the country's eastern coastline. The beach comprises a significant part of the seafront at Bay of Bengal's coast. So, you are guaranteed to have an amazing time here.
10.Sri Govindarajaswami Temple
Joining the league of the best temples in the state is the Sri Govindarajaswami temple. This temple is considered to be one of the most crucial shrines in Tirupati. The architectural style of the temple is quite traditional in the Vaishnava sect. According to popular belief, the temple's very first stone was laid in 1235 by Ramanuja. This is the place of worship of a number of gods and goddesses. Moreover, people from across the world flock to Andhra Pradesh to revel in the peace and serenity of this temple.
11. Araku Valley
People have reviewed this particular place in Andhra Pradesh as one of the best and have confessed to having a really nice time here. This valley is situated at a height of an average of 600 m to 900 m above sea level. The entire Araku Valley is spread across 36 km of area and is basically located on the magnificent Eastern Ghats. This valley offers stunning views of waterfalls, streams and pretty much everything nature has blessed us with. You can definitely expect a pleasant time at the valley.
12. Yarada Beach
Another popular beach in Andhra Pradesh and a must-visit tourist destination is Yarada Beach. This beach provides visitors with crystal clear waters and scenic sunset. This place is excellent to spend some quality time with your family and friends. The amazing thing about this beach is that it is surrounded by three sides by hills and from the fourth side by the massive Bay of Bengal. The beach is resplendent in its glory and is dotted with soft golden sands as well as lush green surroundings. Simply perfect!
13. Rishikonda Beach
Another must-visit beach in Andhra Pradesh is the Rishikonda Beach. This beach is again full of golden sands as well as Bay of Bengal's tidy waves. This beach is pretty ideal as it possesses a massive stretch of water. Therefore, you can indulge yourself to your heart's content in a variety of water sports such as water skiing, swimming as well as windsurfing. In addition to that, the beach is beautifully lined with foliage and green plants, which is why it attracts an immense number of tourists day after day.
14. Besant Road
Besant Road is one of the busiest roads in the state of Andhra Pradesh. Furthermore, it is also known as the busiest domestic business road in the state. If you are a shopaholic, this place is simply heaven wrapped up with a neat bow for you. Being Vijayawada's busiest trade center, you can see loads of tourists as well as locals at this place, regardless of when you visit. It is flanked by some of the best and most modern eateries as well as food joints that serve a number of Indian and western cuisines.
15. Belum Caves
Belum Caves is one place that you will enjoy 100%, irrespective of your tastes or age. From children to adults, everyone has a swell time in Belum Caves, thanks to everything it offers. These caves are situated quite close to the Belum Village and are regarded as the second biggest caved in India after Meghalaya Caves. With the caves divided into three cavities, you can explore this place to your heart's content. Moreover, Belum Caves also have a certain aura of mystery attached to it.
16. Prakasam Barrage
Prakasam Barrage is a stunning dam in the state and another place you can consider visiting on your trip to Andhra Pradesh. This Barrage is a super long structure of 1223.5 m across the Krishna River. It connects the Guntur and Krishna districts of Andhra Pradesh. The barrage's construction began in the year 1852 and it was finished in the year 1855. You can enjoy the stunning view of the lake when you visit this dam. This place is also perfect for clicking some amazing Instagrammable selfies and pictures.
17. Visakhapatnam
Visakhapatnam is a well-known port in Andhra Pradesh. It is also sometimes called Vizag or Visakha. This is definitely India's one of the more important seaports. Visakhapatnam is situated approximately 19 km from Simhachalam. In addition to that, this place is also proudly called the "Jewel of the East Coast." In addition to that, there are a lot of famous tourist attractions in the city such as religious places and museums. You can also enjoy great and fresh seafood when you find yourself here. So, whatever you do, do not miss visiting Visakhapatnam on your trip to Andhra Pradesh!
18. Dolphin's Nose
Dolphin's Nose offers magnificent views of the city from the hilltop. It can definitely be regarded as one of the most popular tourist attractions in the state and tourists as well as locals flock to Dolphin's Nose frequently to revel in the panoramic views offered by this place. This hill is quite high at an altitude of approximately 174 meters. Therefore, you can delight in the views and have fun at the same time. Children especially love this place for delightful views and plenty of greenery.
19. ISKCON Tirupati
ISKCON Tirupati is another well-known tourist attraction in Andhra Pradesh which is popular for its great infrastructure as well as vastness. The Sri Sri Radha Govinda Temple can be found in this place that has been opened under ISKCON. This temple is definitely one of the biggest ISKCON temples in South India. The aim of ISKCON Tirupati is to spread Krishna consciousness and the science behind it using the holy Bhagavad Gita. another interesting fact about this temple is that it also offers free food to a minimum of 1000 devotees each day.
20. Talakona Waterfalls
Last but definitely not least is the Talakona Waterfalls. We definitely saved the best for last this time around! These waterfalls are a definite sight for sore eyes. It is situated at a distance of approximately 49 km from Tirupati and regardless of whether or not it is on your way, you simply cannot afford to miss this place. This majestic waterfall is also the highest in Andhra Pradesh. Besides the cold spray of the waterfalls, you are bound to feel rejuvenated and refreshed here.
 Final Words
As you can see, the state of Andhra Pradesh is very dynamic and can show a grand time to people with a wide range of tastes and preferences. In addition to that, if you are a religious person, Andhra Pradesh has some of the best temples in the country. Hence, you can enjoy great food and see even better sites and places.