20 Best Places To Visit In Bangalore
Bangalore is one of the most diverse cities in India. Located in the state of Karnataka, there are more than a hundred tourist attractions to see in the city and even more things to do. Domestic as well as foreign tourists alike visit the city across the year in search for that elusive "good time" in the form of a holiday.
If you are one of those people who are looking forward to having a grand time in Bangalore, here are the top 20 best places to visit in Bangalore!
20 Best Places To Visit In Bengaluru
1. Bangalore Palace
Bangalore Palace is a majestic place that is surrounded by beautiful gardens as far as the eye can see. It is a very well-known tourist attraction in the city of Bangalore. The Mysore Royal family now owns the palace. You can visit the palace for a peek into the history of the place or just to enjoy a pleasant day in the great outdoors with your friends and family.
 2. Lal Bagh
Another place that you can consider visiting in Bangalore is Lal Bagh. It is basically a botanical garden which is a haven and dream come true for all nature lovers. It is spread across 240 acres of land and was commissioned in 1760 by Hyder Ali as well as completed by Tipu Sultan. It offers a calming atmosphere to the visitors.
3. Cubbon Park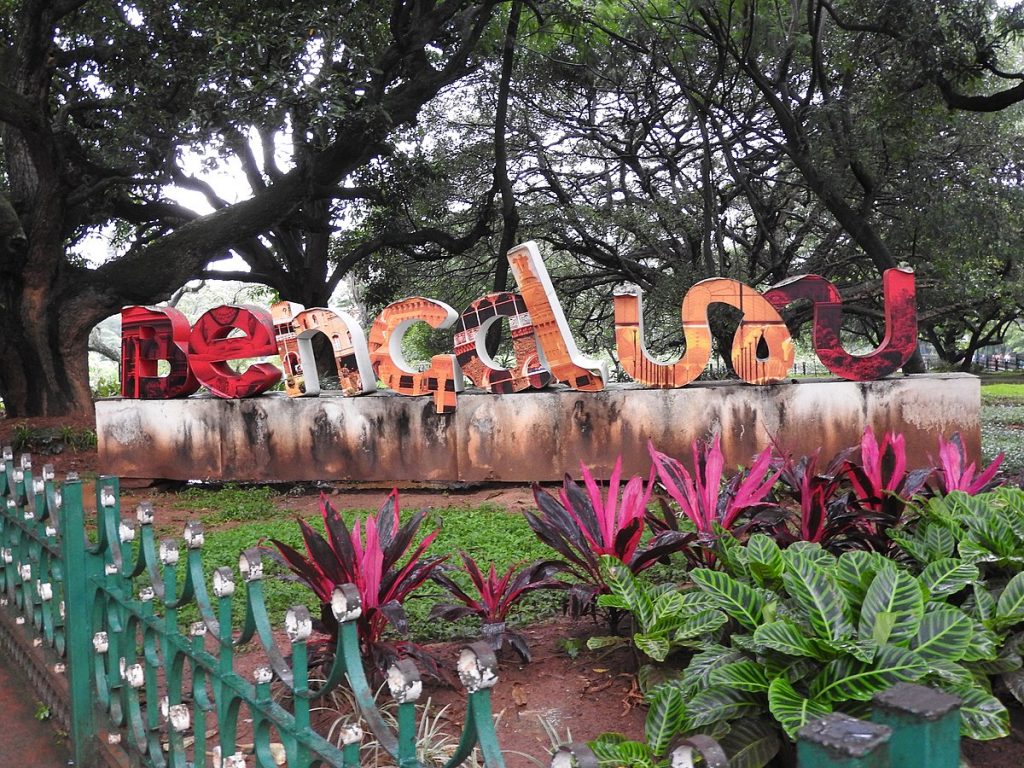 Cubbon Park is another significant sightseeing and tourist attraction in the city. It offers 300 acres of heaven full of green foliage to nature lovers. Lord Cubbon laid it down, which is how the park got its name. If you are seeking a peaceful and calming atmosphere in the city, this can be an ideal place for you and your loved ones.
4. MG Road
And why not visit the MG Road while you are in Bangalore? It is the most popular entertainment hub and shopping center in the city. Therefore, visiting this place can certainly whet your appetite for shopping if you visit this place. The place is swarming with people almost all the time. In addition to that, MG Road is a dream come true for all shopaholics.
5. Bannerghatta National Park
Bannerghatta National Park is another must-visit place in Bangalore. This national park is home to a plethora of fauna and is the very first butterfly park in the country. The amazing fauna in this place is what makes it one of the most enjoyable and sought after tourist attractions in the city. You can go for a safari ride in the park and spot some of the most gorgeous wildlife such as tigers, lions, crocodiles, etc.
6. UB City Mall
Situated in the Central Business District or CBD, UB City Mall is a luxurious mall in Bangalore. This mall invites countless people on a daily basis and is basically a one-stop destination for all your luxurious and high-end requirements. It is a cluster of four towers across an area of 13 acres. If you want your shopping needs taken care of, this place will do that for you and more.
7. Ulsoor Lake
Ulsoor Lake was constructed in the second century by Kempe Gowda II. The lake was previously known as Alasur or Halsur. Even though the lake is not meant for swimming, you can enjoy a day out fishing in these waters and having the time of your life. If nothing else, the picturesque charm and beauty of this place will definitely enchant you.
8. Wonder La Water Park
Wonder La Water Park in Bangalore is an excellent tourist attraction that you must consider visiting. This is one of the best amusements parks you will find in the city. It is the best place to visit with your kids as they are going to enjoy themselves to the fullest. The high-thrill dry rides are one of the most treasured at the park.
9. Commercial Street
Commercial Street is another must-visit place in Bangalore, especially for shopaholics. A confident and lively lifestyle in addition to easy money makes this place a delight and heaven for shoppers. Irrespective of whether you are looking for local silk saris or Jimmy Choos, you are guaranteed to find it in one of these malls or shops.
10. Iskcon Temple
Iskcon temple is a religious place with many branches throughout the world. It is also a cultural complex that accommodates deities of Sri Prahlada Narasimha, Sri Srinivasa Govinda, Sri Sri Radha Krishnachandra, Sri Sri Nitai Gauranga and Sri Sri Radha Krishnchandra. Therefore, if you are a religious person, you can also visit the temple.
11. Nandi Hills
Nandi Hills is a very popular hill station which is located near Bangalore. This scenic hill station serves as a very popular destination for tourists for trekking in Karnataka. People who are looking to get away from the busy city life to more peaceful surrounds can definitely find a reprieve in Nandi Hills.
12. Vidhana Soudha
You can also visit the Vidhana Soudha in Bangalore, Karnataka's state legislature's seat. The building is rather imposing and has been constructed in the Mysore Neo-Dravidian style which is fairly popular in South India. It incorporates certain elements of both the Dravidian and Indo-Saracenic style. This building is one of the most visited places in Bangalore. The facade is very impressive and tourists come from far and wide to visit this place.
13. Innovative Film City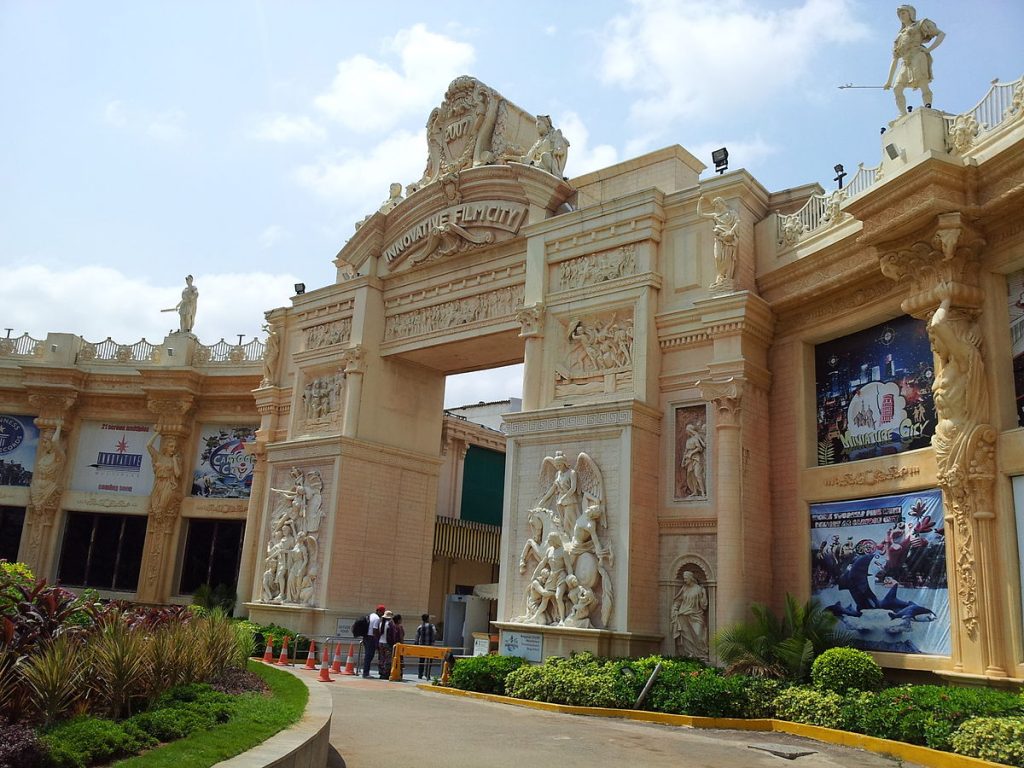 This theme park is another place where you can take a day trip. It is 29 km away from the city center and stands by its name 100%. You can consider spending a day at the Innovative Film City and have a grand time. You can enjoy a plethora of sections such as the Miniature City, Wild Wild West, Water Rides, Fashion Cafe, Wannado City and much more.
14. Jawaharlal Nehru Planetarium
The Jawaharlal Nehru Planetarium is a fantastic place for tourists as well. This planetarium imparts great quality science education to students of all levels. These programs are designed to nurture and identify creative talents to enable students to pursue their careers in teaching and research. Therefore, if you are a student or would love to learn something on your holiday as well, this place is for you.
15. Chunchi Falls
South India is popular for some of the most amazing waterfalls you will see in the country. It is situated 90 km away from the main city and is definitely one of the most luscious and striking waterfalls you will ever witness. It is lush sparkling greenery as well as views all around. Hence, you can expect a much-needed breather from the hustle-bustle of the city center. This is the perfect place for nature lovers.
16. Bangalore Aquarium
Bangalore Aquarium is situated in Cubbon Park. So, if you are thinking about visiting the park, you must definitely drop in to check out the aquarium as well. It is the largest and the most famous aquarium in the city that was established in 1983. The aquarium has on display a multitude of exotic as well as ornamental cultivable fishes. Prepare to be amazed and witness some of the most amazing fish such as Catla, Siamese Freshwater, etc.
17. Lumbini Gardens
Lumbini Gardens are situated on the bank of the Nagawara Lake. It can easily be regarded as one of the most popular and beloved public parks in the city of Bangalore. People often visit this place to enjoy a pleasant and sunny evening in a beautiful park with their friends and family. Kids especially enjoy their time at this park with their loved ones in tow. Therefore, it is a perfect place to enjoy the weather and some amazing scenic beauty.
18. Mary's Basilica
If you wish to visit the oldest church in Karnataka, St. Mary's Basilica is it! This church is the only one in the state as well as in the city of Bangalore that has been elevated to the "minor basilica" status and for an excellent reason. The peaceful and soothing surrounds are definitely going to bring you a lot of inner calm.
19. Art of Living International Center
Art of Living has gained a lot of popularity lately and this international center is no different. It is located 21 km away from Bangalore on the Panchagiri Hills and is a center of immense spirituality and peace.
20. Siddara Betta
Last but definitely not least is the Siddara Betta, a super popular tourist attraction. Situated at 1700 feet, this hillock is popular amongst spiritual seekers and trekkers alike. It also has the temple of Lord Shiva which is why it is a major tourist attraction in Bangalore.
 Final Words
These are some of the best places that you must definitely consider visiting when in Bangalore. And the best part about it all is that this is just the tip of the iceberg. There are many more tourist attractions, places to visit and things to see in the city of Bangalore. So, make sure you do your homework and make your upcoming trip to Bangalore count. So, pack your bags now!