Mahabalipuram is a small town located off the coast of the Bay of Bengal. On the other side of the land is the Great Salt Lake making this town a unique place to visit. Tourists and religious people visit this town to experience the famous and historic temples as well as many monuments which provide a sense of history and culture of the place. These temples and shrines were constructed in the 7th and 8th centuries by the Pallava Dynasty. The small town has a population of merely 15000 souls making it a peaceful and tranquil place to visit. There is a well-known temple on the coast, which is known for its shrines. This town is also known for the renowned ball-like structure balancing itself on a hill.
The best places to visit in Mahabalipuram are as under:
1. Shore Temple
The name of this temple gets its name because it is located on the coast of the Bay of Bengal. This is an ancient construction still standing strong due to its structural design and comprises of granite blocks. This temple is a UNESCO World Heritage and was used as a port during the reign of the Pallava Dynasty. The temple consists of several shrines and structures, rendering it a very aesthetically pleasing look. There is a sculpture by the name of the lion monolith which is a top-rated site inside the temple.
2. Pancha Rathas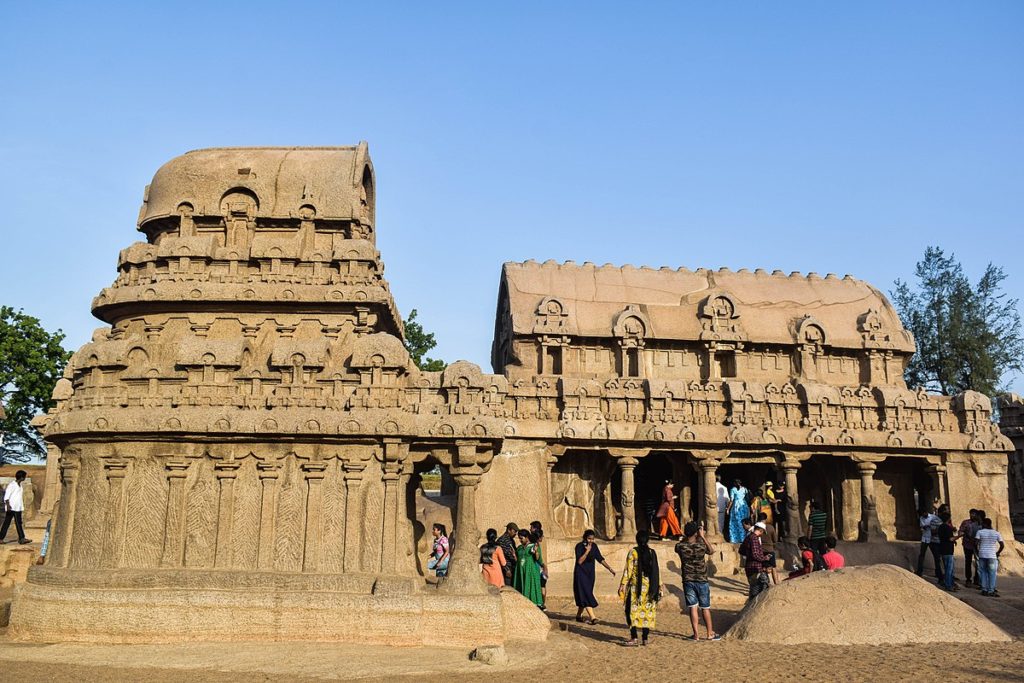 This structure is a real-life example of a Monolithic architecture built in the 7th century and was an innovative structure during the ruling of Narasimhavarman. This one is also a UNESCO World Heritage and is being protected by the Archaeological Survey of India or ASI. The name of the five famous Rathas is Dharmaraja Ratha, Bhima Ratha, Arjuna Ratha, Nakula Sahadeva Ratha, and Draupadi Ratha. This is one of the best tourist attractions in Mahabalipuram and a must-visit attraction if you pop in this little waterfront town.
3. Mahabalipuram Beach
Mahabalipuram is also known for its pristine beaches and is a popular picnic spot for families. It is located on the shoreline of Bay of Bengal; the beach has some attractive rock-cut sculptures. The beach is only 60 kilometers from Chennai, making it a perfect weekend getaway for people living in the metropolitan city of Chennai and get away from all the hustle and bustle of city life. There are many attractions on the beach that attracts tourist from all walks of life, such as caves, rathas, and temples. Therefore, it caters to everyone and every taste.
4. Arjuna's Penance
This is one of the biggest and most enormous rock-cut reliefs in the entire world. This appeals to visitors from around the world. It is sometimes called by the name of Descent of the Ganges. This name is given because it portrays and symbolizes the events of  Hindu Mythology. That is why this place is quite popular with scholars, historians, and visitors who have an interest in the culture of India. This was also constructed during the Pallava Dynasty and is a UNESCO world heritage and protected by the Archaeological Survey of India.
5. Tiger Caves
To reach to the tiger caves, one has to take a five-kilometer-long scenic trek from the town of Mahabalipuram. There are eleven heads of tiger carved and sculpted on the main entrance to the caves, hence the name tiger caves. These sculptures take inspiration from an animal known as Yeli that is a mix of tiger and lion. Tourists visit these caves to have a look at the beautiful carving of Goddess Durga, which is located at the top of Yeli. Visitors can have a calm and peaceful day out here in nature away from the busy life of the city.
6. India Seashell Museum
This is the best spot for someone who loves to collect and look at different kinds of shells at beaches. There is a wide variety of shells displayed in the museum, which one would not usually see on a beach. This Seashell museum is the largest and the grandest in the whole of Asia. There is nothing like it in the whole of India, either. This museum first opened to the general public in 2013 and is a popular tourist attraction ever since. The number of seashells at display in the museum is insanely big and stands at 6000. It is truly a heaven for individuals who are passionate about seashells, and this museum won't keep you disappointed.
7. Mahabalipuram Light House
This is also one of the known places visited by tourists in this small town of Tamil Nadu. The lighthouse stands at 85 feet and provides scenic views of the town. It was built in 1887 and is quite an old structure. This was first opened to tourists in the year of 2011. The oldest lighthouse in India is located adjacent to this lighthouse. Tourists can enjoy the views of the famous Olakaneeswara Temple.
8. Krishna's Butterball
This is by far the most famous tourist attraction in the whole of Mahabalipuram and is a must to visit place if you find yourself in this town on one of your holidays. It is nothing but a giant granite ball just sitting on a small hill and is balancing on its own. This ball is sitting there for more than 1200 years and hasn't moved at all. Sounds intriguing! It is almost 5 meters tall and is definitely worth your visit.
9. Pallava Beach
This is one of the many beaches in Mahabalipuram and is quite known for its serene and tranquil environment. People visit this place to relax and soak in the fresh breezes coming from the Bay of Bengal. It is a family-friendly place and is also a popular picnic spot. This beach is a must to visit place in this town.
Therefore, the town of Mahabalipuram is an interesting and an off the beaten path tourist-friendly place which offers something for every type of travelers and must be visited due to its laid-back vibes.