Places To Visit In Rajgir
Rajgir can be considered one of the most underrated tourist destinations in India. However, once you go there, you will realize that there is so many touristic activities to do and places to visit in Rajgir.
Let's check out the top 10 places that you can visit in Rajgir!
1. Japanese Stupa
Japanese Stupa is also popularly known as the Vishwa Shanti Stupa. You will have to go to the Gridhakuta hill which is located at an altitude of 400m to visit this stupa. The Japanese built it as a symbol of world peace. It is one of the most visited sites in Rajgir.
2. Rajgir Ropeway
Rajgir ropeway is used to visit the Japanese Peace Stupa. If you are a nature lover, this is a must-take ride for you. You will get a panoramic view of the beautiful hills and forests from the top. This ride will also get your adrenaline to a high if you directly look down at the height. However, it is an activity that you must definitely do in order to enjoy the beauty of India. The timings for this ropeway is 8.15 in the morning to 5 in the evening. However, they also have a lunch break in between which is from 1 pm to 2 pm. The total cost of a round trip ticket is somewhere between 30 to 50 INR.
3. Bimbisara's Jail
You can get an enchanting view of the Japanese Stupa from the Bimbisara jail. This place in itself is also very scenic. It is known to be a place where Ajatshatru, the son of Bimbisara, confined him. It is on the same hill as the Japanese Peace stupa. You can go there and enjoy the beauty of nature. You can even carry your picnic basket to spend the day at the hilltop.
4. Cyclopean Walls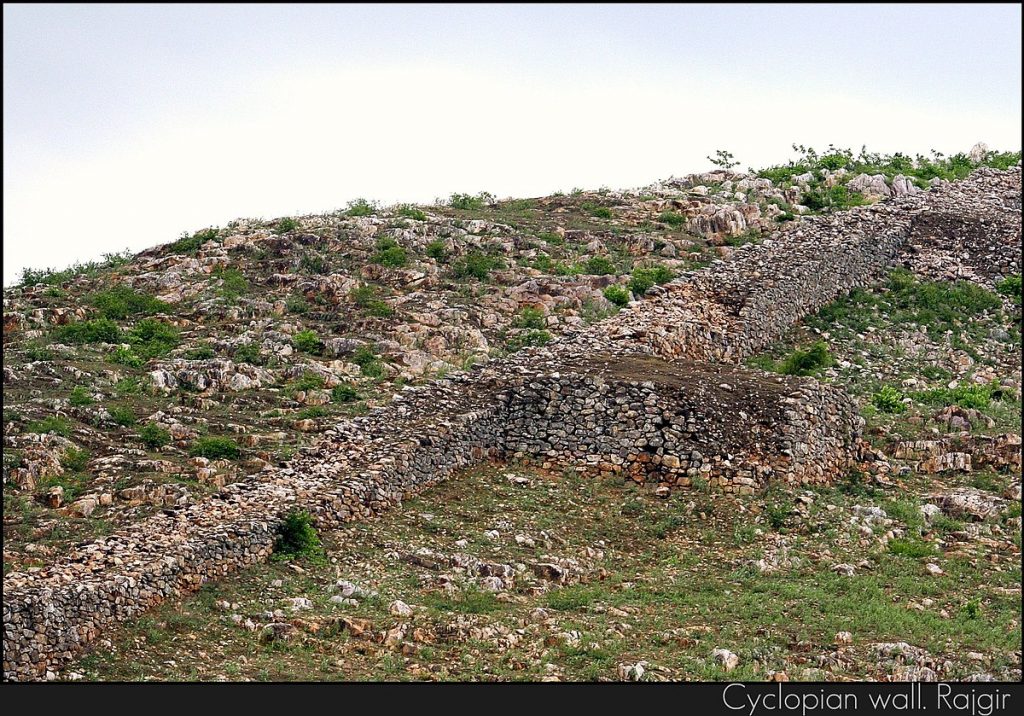 The Cyclopean walls are an attractive tourist site in Bimbisara. These walls date back to 2500 years and are 4 meters high that encircles the entire city. These walls are a total of 40 kilometers. The Mauryans built this wall in order to fortify the city and protect it from any kind of foreign invasions. Most of the wall is in ruins now, but it is still a beautiful place to visit because this place will take you back in time.
Places To Visit In Rajgir
5. Saptaparni Caves
Saptarani caves are located on the Vaibhava hills and are known to have hosted the First Buddhist Council. This council was very popular, and more than 500 monks attended it. Maha Kashyapa led it. Hence, it holds importance for the Buddhists.
Moreover, these caves are also very scenic and beautiful. You can visit it with your family and friends and enjoy some time there. You can also carry your picnic basket to chill there with some fantastic food and relaxed time.
6. Kundalpur
Kundalpur holds great importance for the followers of Jainism. It is known to be the birthplace of the last Jain Tirthankara known as Lord Mahavira. It is located right outside Nalanda. This place holds great religious significance so you can go there and visit to immerse yourself in the positive vibe of the site.
7. Venu Vana
Venu Vana is one of the top tourist sites for everyone who is enchanted by Buddhism. This place is known to be the residence of Buddha. King Bimbisara donated this place with Bamboo Grove to Buddha. Tourists come to visit this park which is now full of flowers, a large pond, and bamboos. It also has an image of Buddha at the center of the park.
8. Jarasandha ka Akhara
Jarasandha was the king of Magadha, which is the present day Bihar. He was known for his martial skills, and he built this Akhara which still stands in Rajgir. Although the place is in ruins now, you can again feel its magnificence and grandeur. You can visit this place and re-live the historical times. This place will surely help you travel back in time. This place is also an ideal one to visit with friends and family to have a relaxed time.
9. Ajatshatru Fort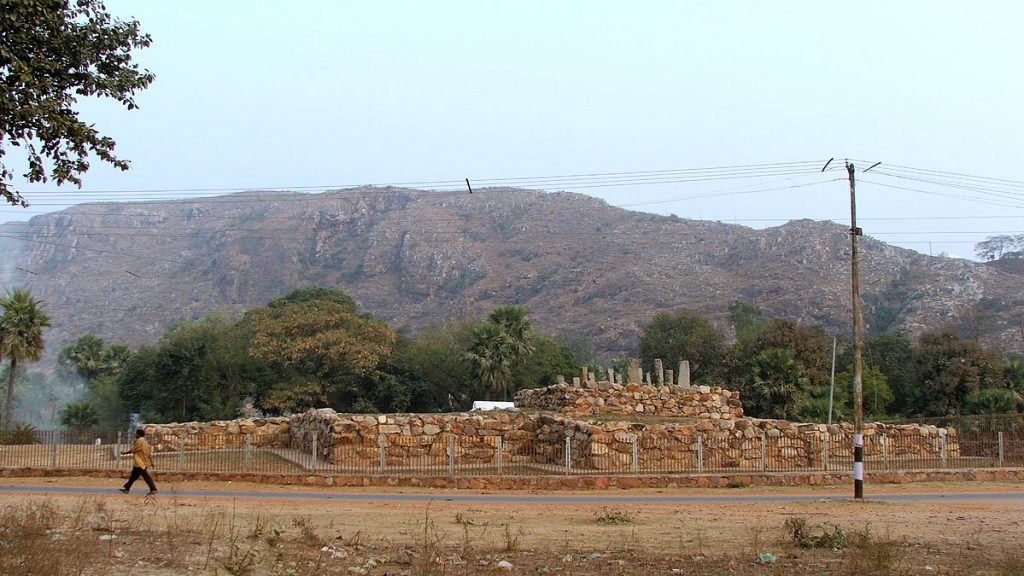 The Ajatshatru fort is a must visit for all the tourists who go to Rajgir. It was built by Ajatshatru who built this fort in the 6th century BC. He was the ruler of Magadha when he built this magnificent fort. According to the legends, he imprisoned his father, Bimbisara, in jail within this fort and Bimbisara being a hardcore Buddhist chose a corner within the prison from where he could see the Shanti Stupa. Nevertheless, this massive fort has a fantastic grandeur so you must go and walk around and try to imagine the life of people in those ancient times. It is definitely an exciting place to visit in Rajgir.
10. Hiuen Tsang Memorial Hall
This memorial hall was built in the memory of a Chinese scholar who is known to have lived in that area for 12 years during his time in India. This hall holds great significance for people who are interested in medieval Indian history because it has writings about India during that time from this scholar. His writings and observations about medieval India holds a lot of importance and gives a lot of information about the life of Indian people during those times.
Final Words
To sum up, it can be stated that Rajgir has a lot more to offer than you can imagine. There are several places where tourists can visit to relax and revisit the historic period.
Rajgir is a place that is rich in history and helps you understand ancient Indian culture. So, you can travel to Rajgir and take a dip in those early times to cherish the grandeur of Indian kings and their kingdoms.
Some other places worth visiting in Rajgir are Swarna bhandar, Ghora Katora lake, Rajgir hot springs, Pandu Pokhar, and much more. When you are in Rajgir, you will never be short on options to visit. There are a lot of places and activities that you can do in Rajgir as a tourist!