Mahabalipuram is a city with a lot of heritage and history. You can visit the place to submerge yourself in the beauty of the immemorial times. There are a lot of things that you can do in Mahabalipuram, depending on how many days you want to spend there. This list of some of the fantastic things to do in Mahabalipuram will help you make an excellent itinerary for your next trip!
1. Thirukadalmallai
This structure dates back to the 6th to 8th century BC and was constructed by the Pallava dynasty. It is also known as Sthalasayana Perumal Temple and is popular amongst the top 108 temples that are dedicated to Lord Vishnu all around India. The architecture of this temple showcases the Dravidian style of architecture, and it is also a part of the UNESCO protected heritage sites. Devotees still come and visit this temple to give their offerings.
2. Dance Festival of Mamallapuram
If you want to immerse yourself in the cultural heritage of India and see some of the most beautiful performers in classical dances like Kathakali, Kathak, Bharatnatyam, Kuchipudi, and Mohiniyattam. It goes on for four weeks, and the venue of the festival is something to look forward to during these days. The dance festival takes place in a place that is close to Mahabalipuram and is also a popular attraction for tourists. It is called Arjuna's Penance Rock Sculpture. Hence, the backdrop and lighting is something that makes the entire festival even more exciting.
3. Surfing Lessons
Mahabalipuram is also known for its amazing beaches. However, when you visit the beaches this time, you can do some more activities than just chilling there. You can actually take some surfing lessons there and try out surfing at the beach. However, if you are already an expert, you can directly go to the beach and start surfing. It will take your adrenaline to a new high, and you will love every bit of it.
4. Cave Temple
The cave temple is another marvel that you can find in Mahabalipuram. It is full of amazing sculptures that are carved together in various themes. All these temples are spread across the place, and it is not really possible to walk from one to another. Therefore, if you have to choose the top three cave temples to visit, you can go for Mahishasurmardhini caves, Krishna Caves, and Varaha caves. There are plenty of stories of Indian Gods and Goddesses associated with each cave temple.
5. Krishna's Butterball
It is another interesting site that almost defies gravity because it is a massive rock of 16 feet that balances itself on the slope. The exciting part is that it has been balancing itself on that slope for the last 1000 years. There have been many attempts made to roll it with the help of elephants, but nothing worked. The rock does not move an inch. Hence, it is also an extraordinary must-see sight when you visit Mahabalipuram. You will definitely be impressed with the miracle of nature.
6. Lighthouse
You can visit the lighthouse in Mahabalipuram and get your perfect postcard picture there. With the possibility to climb the lighthouse, you get to see a fantastic view of the entire city from the top. You can climb it to see the beautiful sunset with a view of the sea. It is definitely enthralling. The city is so beautiful that you will be mesmerized by it when you get a bird's eye view while enjoying the cool breeze from the sea. This is a must-do activity to calm yourself down and unwind.
7. Pancha Rathas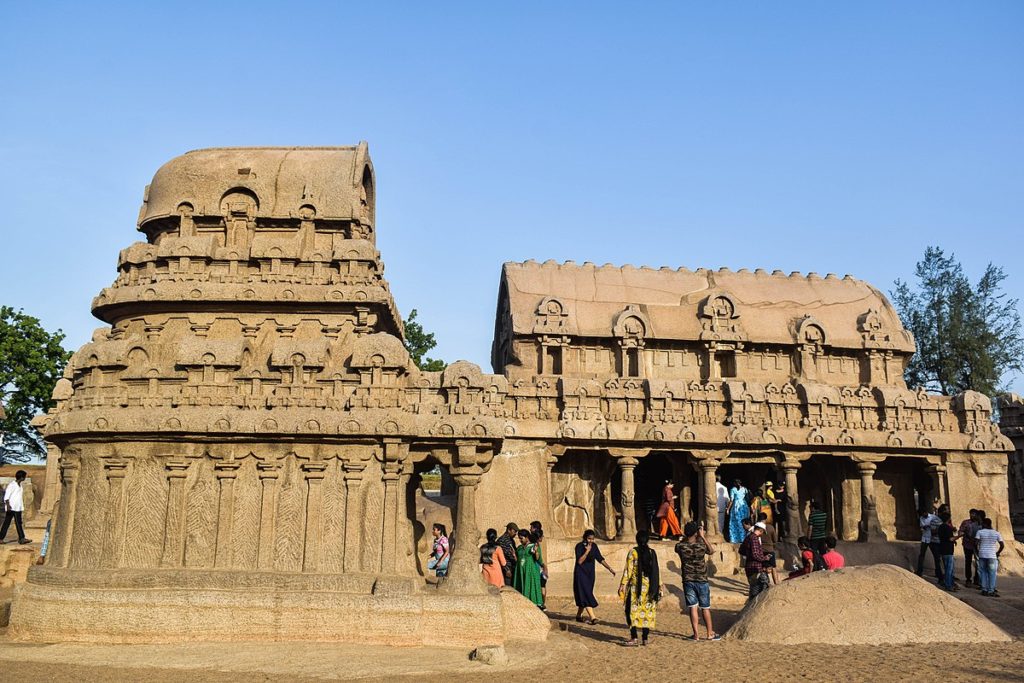 It is one of the top things that you can put on your list when you visit Mahabalipuram. It speaks of history and architecture in India. There are several monolithic structures and temples that take forms of chariots or rathas. It is truly magnificent. You will find a group of temples here. There are five temples that are dedicated to the Pandavas from the Mahabharata. There is also a temple that is genuinely devoted to Draupadi. The base of this temple has tigers that are a symbol of the vehicle of Goddess Durga. It is fascinating to see these temples and also listen to the stories associated with them.
8. Dakshina Chitra
This is a small village just next to Mahabalipuram that highlights the culture of various South Indian states in India. You can visit several homes and enjoy the local art, craft as well as folklore. You get an opportunity to immerse yourself in the south Indian culture. However, if you want to visit the place, it is better to do this before entering Mahabalipuram or while leaving the city because it is slightly on the outskirts. You are definitely going to love the cultural immersion when you visit this enchanting village.
9. Shore Temple
This is an amazing and one of the most beautiful temples located in a very scenic area. It was built during the time of the Pallava kings and is surrounded by the Bay of Bengal. The blue sky, water, and the beautiful golden color of the temple will take your breath away. It is also declared as a heritage site by UNESCO. There were seven such temples, but it is the only one that survives till now. Others have been submerged in the ocean. Although some of them were sighted when Tsunami hit the area, there have not been much discussed about it.
10. Arjuna's Penance
This place is one of the most significant Bas air reliefs in the world. It stretches 45 feet in height and 100 feet in length. It was excellent and intricate carvings of elephants, humans, and other animals. It depicts the story of Lord Shiva and Arjuna and is quite an exciting place to visit when you are in Mahabalipuram.
Final Words
To sum up, Mahabalipuram can be called a paradise with so many exciting and beautiful places to visit. So, keep these things in mind when you plan your next itinerary in Mahabalipuram.